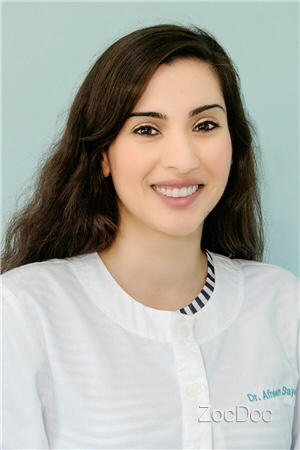 Dr. Afreen Sayeed graduated from University of Texas, School of Dentistry at Houston. She also attended St. John's University in New York where she focused not only on the sciences but studied and developed a deep interest in Ethics and Philosophy. With several years of dental experience working with all age groups, Dr. Sayeed strives to build trusting and genuine relationships with each patient and is committed to providing the best that dentistry today has to offer. She seeks to improve her patients' overall health and lifestyle through healthy teeth and gums, allowing for improved self-esteem and self-confidence through a beautiful smile. While utilizing her extensive training and experience to treat even the most challenging dental situations, Dr. Sayeed believes modern dentistry should be pain and stress free, provide excellent clinical and radiographic results, and remain cost effective.
As a dental professional and health care provider, she remains current on the latest advancements in dentistry through continuing education courses in implants, Invisalign and CEREC technology.
In this manner, Dr. Sayeed may educate her patients with all available options and present a comprehensive treatment plan. She understands and is fully aware that her patients have placed a great deal of trust in her and her abilities and strives to not only meet, but exceed her patients' expectations.
Dr. Sayeed believes that preventative care and education are the keys to optimal dental health. She offers a full range of dental services tailored to meet your dental needs, and maintains a focus on practicing conservative dentistry for better oral health whenever possible. Conservative dentistry means she would rather prevent a cavity with an emphasis on regular dental visits, placement of sealants, maintaining proper oral hygiene and educating her patients.
With Dr. Sayeed's extensive experience in pediatric and adolescent dentistry, now all her patients can also benefit from and take advantage of her refined, gentle dentistry!